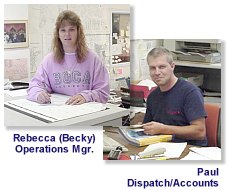 J.J. Express started operation in the mid 1980's as a small local delivery company with 4 drivers and a dispatcher. In 1990 J.J. Express was purchased by Terry & Helen Demers.
Today J.J. Express has over 30 drivers and an office staff of 5. Our couriers all handle themselves in a professional manner, and have an extensive knowledge of the Greater Kingston Area.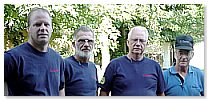 J.J. Express is now a major player in the local/national, courier/delivery business. We are agents for over 45 Courier and Transportation Companies across North America. We handle a wide range of freight from envelopes to packages and parcels. We offer many different types of vehicles to handle different load requirements, and have a wide range of services geared towards small and medium sized businesses.
The future plans are bright with new growth and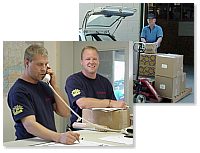 expansion in the works. We will be expanding our Courier to Courier Program to cover a larger territory and an increased freight capacity to accommodate large volume shippers. We are preparing ourselves to meet tomorrow's marketplace, and our new and existing customers shipping requirements.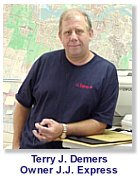 Our clients vary from large law firms, financial institutions, professional offices, medical offices, industrial suppliers, maintenance & cleaning supplies, office products, distribution companies, media industry, utility companies, local and federal government offices and many others. We'll be happy to provide any type of reference at your request. We appreciate you taking the time to look over our web site and hope we have an opportunity to service you in the future.